Consumer spending continued to improve in July from pre-pandemic levels including another strong gain for restaurant sales, according to reports Tuesday.
The Census Bureau reported that Americans spent $637 billion in July at retailers, including $76.7 billion at restaurants and bars.
After seasonal adjustments, retail spending was down 1.1% from June and up 18.9% from July 2019. Restaurant spending was up 1.7% from June and up 10.4% from July 2019.
Stronger gains were found in the same-store sample of credit unions affiliated with PSCU, a St. Petersburg, Fla.-based payments CUSO.
PSCU indices released Tuesday showed all sectors except travel had double-digit growth in credit card purchases for July 2021 compared to the pre-pandemic July 2019. Travel was just 1% below July 2019.
Overall member purchases in July were 31% higher than July 2019 by debit card and 23% higher by credit card, PSCU reported.
Debit card purchases rose 16% from July 2019 to July 2020, and rose 13% from July 2020 to July 2021. Credit card purchases fell 3% from July 2019 to July 2020, and rose 27% from July 2020 to July 2021.
"Signs of economic recovery continued as consumer spending remained strong throughout July, despite the uncertainty brought forth by the recent surge of the Delta variant," Cindy McGinness, PSCU's vice president of digital experience, said.
PSCU found restaurant spending in July rose 26% by credit card and 28% by debit card from July 2019. The biggest gain was among Gen Z adults, those ages 18 to 22. Their spending by credit card rose 72% by credit card and 66% by debit compared to when the oldest were turning 20 years old.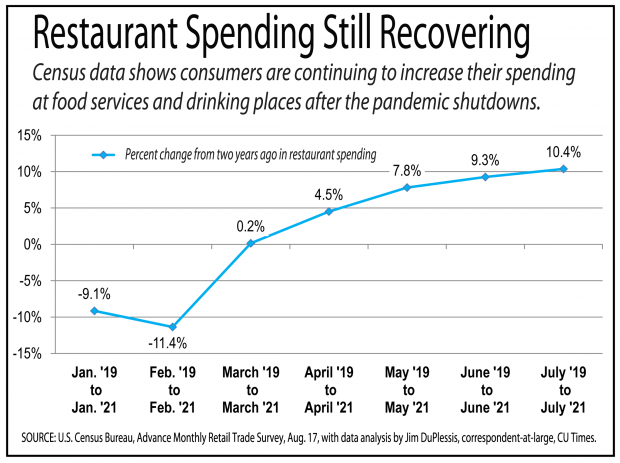 Gen Z accounted for 17% of credit purchases in July, up from 12% two years earlier. They accounted for 26% of debit purchases in July, up from 20% in July 2019.
The Fed's G-19 Consumer Credit Report released Aug. 6 showed U.S. borrowers held $951.1 billion in credit card debt as of June 30, down 7.7% from June 2019. Debt at credit unions was $61 billion, down 3.1% from June 2019.
PSCU found the average credit card balance per gross active account was $2,645 in July, up $5 from June, down 6% from July 2020 and down 13% from July 2019. Its report forecast that credit card balances at year's end will be 2% higher than in December 2020.
"We continue to anticipate modest growth in credit card balances as fall approaches, following the expiration of federal unemployment benefits, higher inflation and continued strength in purchase volumes, which could be offset through the extension of the eviction moratorium and student loan forbearance," the report said.